Boardwalk Repairs - Again!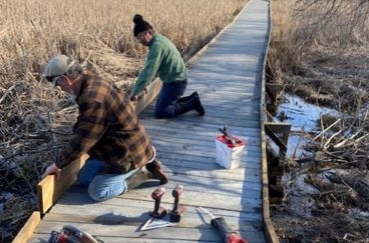 The severe windstorm over Christmas of 2022 destroyed one ten-foot section of Jobes' Woods Trail boardwalk as well as two ten-foot sections of the Marsh Boardwalk.
On January 16, 2023, FOPP volunteers Brent, Pete, Ernie and Larry completed the repairs to Jobes' Woods Trail.
On February 20, 2023, the repairs were completed on the Marsh Boardwalk with the assistance of volunteers Ron, Brent, and Larry. Standing water added to the challenge of completing this repair. Thanks to park staff for supplying a generator which assisted in this work being completed within one day.
Larry constructed a new permit box by the Camp Office as the old one was becoming very tired.
The Park Improvements team have a busy 2023 season planned with repairs to trails, signs, the Amphitheatre, and the Nature Centre. The team will also be assisting the park to construct dozens of picnic tables. The winter storms took a heavy toll on the tables as many were damaged by falling trees. More volunteers are welcome; simply sign up on our website: www.friendsofpresquile.on.ca.