Kids 'n Nature Videos for Earth Day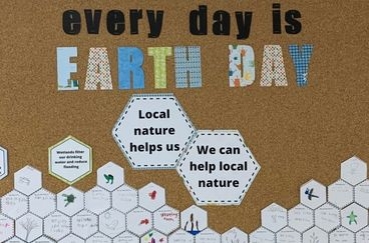 Students at Northumberland Hills Public School in Castleton, Ontario recognized the value of local nature this Earth Day, with the help of the Kids 'n Nature Online videos. The series of education videos for elementary schools was released by the Friends of Presqu'ile Park in early 2022.
During their weekly library visit, students watched a video featuring naturalist Sydney leading a virtual trip on the Marsh Boardwalk. Along the way they learned how frogs, turtles and dragonflies that live in Presqu'ile's marsh help humans. Teacher-librarian Janine McClintock shared with classes that preserving local natural spaces is also important to humans because spending time in nature and listening to nature sounds benefits our mental health.
Students then brainstormed ways that humans can help animals and protect natural areas. Their answers and drawings of wildlife were displayed in a hexagon design to show the interconnectedness of humans and nature on a bulletin board outside the library.
The Kids 'n Nature Online videos feature curriculum-based virtual tours of Presqu'ile Provincial Park for Grades 1, 2, 3, 4, and 6. This project was made possible by donations from Audrey E. Wilson, Canada Summer Jobs, and the Brian Todd Memorial Community Fund. The videos and accompanying worksheets are available for free on our website.