Lighthouse Gift Shop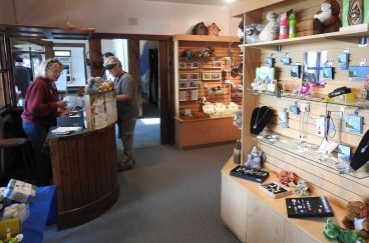 The Friends' Gift Shop is located in the Lighthouse Interpretive Centre. For many years, the Gift Shop operated under the guidance of Joyce and Don Boucher. The Bouchers are now enjoying a well-deserved retirement and a new team, under the direction of Michelle Buchkowsky, has taken over. We are delighted that the Gift Shop is back in operation with many fresh and interesting items for sale. We have new designs of sweatshirts and T-shirts sporting the Friends logo. There are also collectable badges for the youngsters and a wide variety of toys for children of all ages. And don't forget to pick up your botanical insect repellant.
The Gift Shop also features works by local artisans including jewelry, ornaments, pebble art, watercolour prints and note cards. There's fudge, jam, and jellies for your sweet tooth and chilled bottled water to quench your thirst.
Each year, over 20,000 visitors stop by the Lighthouse Interpretive Centre and the Gift Shop to purchase goods, make donations, obtain information about the park and the local community, and, of course, learn about the work of The Friends of Presqu'ile Park.
100% of the proceeds of the Friends' Gift Shop sales remain in Presqu'ile Park to further The Friends' educational and environmental initiatives.
Come visit the Gift Shop during Warblers and Whimbrels weekend – May 20 and 21, to get a sneak peek at all the new inventory and meet the committee members, Michelle, Janet, Sandy, Teresa, and Darlene.
The Lighthouse Gift Shop will be open weekends starting the beginning of June. Check our website (www.friendsofpresquile.on.ca) for details on the seasonal hours during the summer months.