The Marsh Boardwalk is Open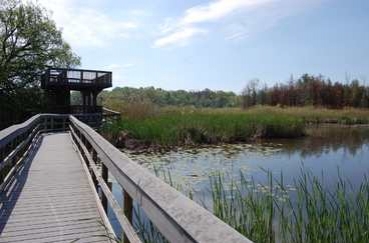 The Marsh Boardwalk is one of the most popular trails in Presqu'ile Provincial Park. Visitors can enjoy this easy 1.2 km long trail featuring 800m of boardwalk and two viewing towers. The Presqu'ile marsh is one of the largest marshes on the north shore of Lake Ontario and it offers many different opportunities to view nature up close. The final ¼ km takes visitors through an old forest. Be sure to get a picture on one of the "horse trees", odd Eastern White Cedars that were damaged well over a hundred years ago.

The inhabitants of the marsh change with the seasons and location in the marsh. Over 100 species of birds use the marsh to find food and raise their young. In addition, many species of mammals, reptiles and insects live in and below the marsh. Every visit is a chance to discover something new about this special habitat. To help you discover more about the marsh, the Friends of Presqu'ile, in partnership with Ontario Parks, have created a new set of interpretive panels along the trail. These panels will introduce visitors to the marsh and showcase some of the plants and animals that call this area home.
The Marsh Boardwalk has long been a special project of the Friends of Presqu'ile Park. The original boardwalk was removed about 15 years ago because it had become a hazard. The Friends of Presqu'ile raised over $300,000 and contributed about 9,000 hours of volunteer labour to construct a new Marsh Boardwalk. The new Boardwalk was once again - a favourite spot.

Heavy flooding in 2017 and 2019 caused extensive damage to the Boardwalk and it had to be closed again. The Friends of Presqu'ile launched a very successful "Raise the Boardwalk" fundraising campaign. Volunteers and park staff spend several hundred hours shoring up and raising the Marsh Boardwalk. Although some work remains to be completed, it was re-opened in the summer of 2021.
When the new interpretive signs are installed in the spring, the Marsh Boardwalk will, once again, provide hours of fun and learning for park visitors, young and old alike. Thanks to our volunteers and generous donors for making this possible.