Warblers & Whimbrels Weekend 2022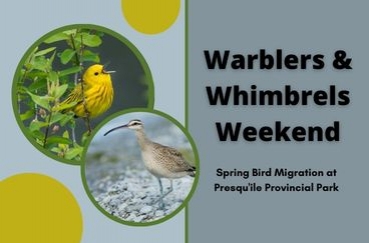 Join Presqu'ile Park staff and volunteers on Saturday, May 21st and Sunday, May 22nd for Warblers and Whimbrels weekend. This event celebrates the spring migration of the smaller birds, such as warblers, and the shorebirds, like the Whimbrel, that annually stop at Presqu'ile on their way north. Presqu'ile's location and its varied habitats make it a popular stopover for migrating birds.
The birds rest and feed before moving north; so, this gives birders a great opportunity to see and appreciate a wide range of bird species. Those new to birding, as well as experienced birders eager to expand their knowledge, can learn more from naturalist-led bird walks.
There will also be volunteer naturalists around the Lighthouse area to guide visitors. The Lighthouse Interpretive Centre will be open from 9:00 am to 4:00 pm with displays and volunteers on hand. Join the Friends of Presqu'ile for a fundraising barbecue lunch both days from 11:00 am to 2:00 pm. Early morning coffee will also be available.
A detailed schedule of events can be found below: