2023 Raffle: Paddling around the waters of Presqu'ile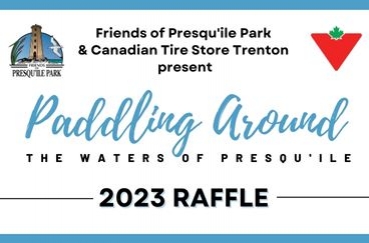 The Friends of Presqu'ile Park and Canadian Tire Store Trenton are excited to present our 2023 raffle!
You could win a canoe, stand-up paddleboard or inflatable kayak. Prizes include lifejackets, paddles, and an Ontario Parks 2024 seasonal pass.
Tickets are $5 each, or 3 for $10, and will be sold at the locations described below. Tickets must be purchased in person, cash only. There will be no online sales and no e-transfer available.
Lighthouse Interpretive Centre, Presqu'ile Provincial Park
Saturdays, Sundays, Tuesdays, and Thursdays 10am to 4pm in July and August
Saturday BBQ's, behind the Amphitheatre in Presqu'ile Provincial Park
Saturdays 10am to 4pm, July 1 to September 2
Presqu'ile Park Place ice cream shop, just outside the Presqu'ile Park main gate
Open 11am to 8pm weekdays, 11am to 9pm on weekends.
H.D. Rolf the Jeweller, downtown Trenton
Open Monday to Saturday, 10am to 4pm