Common Terns 2022: A Good News Story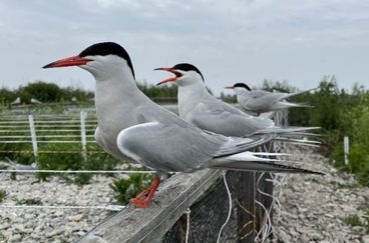 This is the fifteenth year for the Common Tern study at Presqu'ile, a study funded in part, for several years, by the Friends of Presqu'ile. Professors Jennifer Arnold and Stephen Oswald (Penn State) were not able to spend all of May, June, and July at Presqu'ile, maintaining and monitoring the protective Tern grid system and the Tern colony, however Stephen visited for three different periods throughout the season to help the park implement tern management and monitoring. Don Tyerman, park Biodiversity Specialist, and his staff, maintained and monitored the tern grid system and the tern colony, in their absence.
In spite of many challenges, Don reports "We are thrilled with our productivity this year, which is a good thing, since the other major sites around Lake Ontario have had an awful year." It appears that over 268 chicks fledged this year, the best year to date.