Park Information
Presqu'ile, French for "almost an island" or "peninsula", is a boomerang-shaped spit of sand and limestone that juts sharply into Lake Ontario.
Presqu'ile Provincial Park, with its variety of habitats and campground facilities, offers a wide range of recreational activities from wildlife and bird watching to catching rays on the beach. It is a haven for migratory birds and Monarch butterflies.
The park is operated by Ontario Parks, an agency of the Ontario government. It is open for day use 365 days a year, from 8am to 10pm. Daily vehicle permits or seasonal vehicle permits are always required in order to enter the park. Reservations for day use are required for day use in peak season. The campgrounds are open from late April to late October and camping permits must be obtained via reservations.
Features
A visit to Presqu'ile offers:
🌳Year round day use, walking trails, wildlife viewing, and birding
🌳Spring, summer, and autumn camping
🌳Two large, picturesque lakeside picnic areas
🌳One of the province's longest sandy beaches (no dogs allowed at any time)
🌳16 kilometres of nature trails - through wetlands, forests and fields
🌳A major stop over point for migrating birds
🌳Special events such as waterfowl and Monarch butterfly weekends
🌳A comprehensive natural and cultural history interpretive program
🌳A kid-friendly Nature Centre, featuring live fish, frogs, snakes and turtles (open July and August)
🌳A history that includes rumrunners, shipwrecks and pirates - see the cultural history displays at the Lighthouse Interpretive Centre (open July and August)
🌳Souvenir shopping at the Park Store (open June to September) and the Friends of Presqu'ile Lighthouse Gift Shop (open July and August)
Location
Presqu'ile Provincial Park is located in Northumberland County, just south of the town of Brighton, Ontario, Canada. Brighton is located off Highway 401 at Exit 509, 2.5 hours east of Toronto and 1.5 hours west of Kingston. The park's address is 328 Presqu'ile Parkway, Brighton, Ontario, K0K 1H0.
Use the + and - buttons on the Google Maps image below to zoom in or out of the map. Click on the directions arrow to generate directions to Presqu'ile from your location.
Parking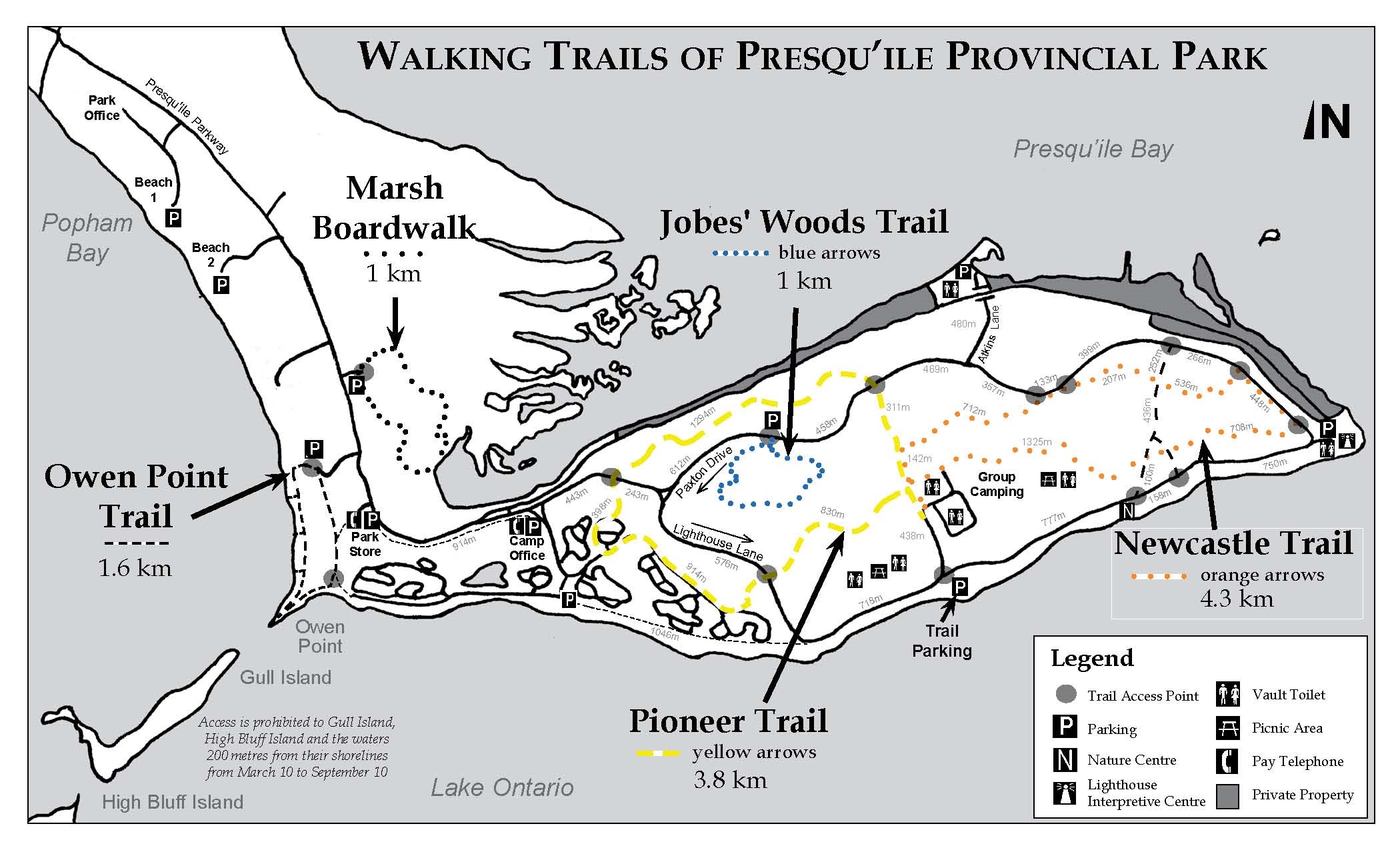 You must have a Daily Vehicle Permit displayed on the dash of your vehicle at all times in the park. Parking lots are available in the following locations:
Beach 1 (closed in fall and winter)
Beach 2 (closed in fall, winter, and spring)
Marsh Boardwalk
Owen Point Trail
Park Store
Camp Office
Amphitheatre (in campgrounds)
Trail Parking Lot (across from Group Camp)
Nature Centre
Lighthouse Interpretive Centre
Calf Pasture Picnic Area
Jobes' Woods Trail
Washrooms
Flush toilets are available in select locations:
Owen Point Trail parking lot - closed October to April
Campground comfort stations (Maples, High Bluff, Hidden Valley) - closed October to April
Lighthouse Interpretive Centre - open daily in July and August, may be open weekends in spring and fall
Pit toilets are available throughout the park but may be closed during the winter
Beach 1
Beach 2
Campgrounds
Day use picnic areas
Group Camp
Lighthouse parking lot
Calf Pasture day use area
Park Services
We have compiled information from Ontario Parks about the following on our website:
☀ Day Use (daily vehicle permits, seasonal passes, reservations)
⛺Camping and roofed accommodations
Here are some links for information about additional topics:
Beach closures, fire bans and other advisories
Gull Island and High Bluff Island
Questions
If you have questions about Presqu'ile's services and facilities, Ontario Parks is your official resource:
💻 Presqu'ile Provincial Park website
💻 Presqu'ile Provincial Park social media: Facebook, Twitter, Instagram
📞 Presqu'ile Provincial Park phone number: 613-475-4324
💻 Presqu'ile Provincial Park Newspaper: 2022 Information Guide. This online pdf is kindly provided by Willow Publishing, Brighton.
📞 Ontario Parks reservation phone number: 1-888-668-7275